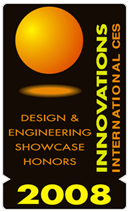 ECTACO iTRAVL NTL series garners Innovations 2008 Design and Engineering Award from the Consumer Electronics Association (CES)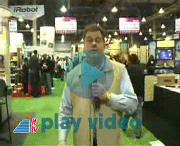 iTRAVL in CES 2008: Video report The ECTACO iTRAVL NTL-9C Talking 2-way Multilingual Language Communicator and Electronic Dictionary, along with the entire iTRAVL NTL series, has been selected as an Innovations 2008 Design and Engineering Award honoree in the Personal Electronics product category for the upcoming Consumer Electronic Show to be held in Las Vegas 7-10 February 2008. Singled out from the thousands of competing new products, the Consumer Electronics Association which is responsible for organizing America's most important forum for new technology has chosen ECTACO and the iTRAVL NTL-9C, along with the entire iTRAVL NTL series, as the best of the new year.

With the new iTRAVL® device, ECTACO® has taken usability and convenience a step further to provide everything necessary to visit dozens of different countries without dragging along a single bulky dictionary or phrasebook. That's because the new NTL-9C provides travelers with the tools they need to make their trips more comfortable, communication more effective, and to help build relationship between both business and romantic partners. The multilingual iTRAVL® offers users of all ages and skill levels a true revolution in modern handheld translation technology with Language Teacher®. The latest speech recognition based Language Teacher provides a superior real time visual evaluation and testing system, real human native speaker voice output and sophisticated TTS (text-to-speech) functionality to translate between English and Chinese, French, German, Italian, Polish, Portuguese, Russian, Spanish and back. Fully-loaded with all the extras, iTRAVL® comes complete with the CIA World Factbook for tons of information on 180 countries worldwide, games, travel guides and a music player. Powered by Windows CE, it now accepts third party programs as well as plug-in peripheral devices.
This is not the first time the NY-based electronic translation giant has been recognized for its outstanding design and innovation. ECTACO Inc. has been leading the field for over a decade with its software division LingvoSoft®, receiving numerous awards for their innovations including several Pocket PC Magazine awards as well as an earlier acknowledgment from the Consumer Electronics Association.
ECTACO, Inc. is a New York based company that specialized in multilingual global communication solutions, with more than 17 years of experience, 18 offices and millions of satisfied customers.