Technologies > Technical Specification
Loaded with a full range of the most useful communication tools. By simply speaking into the iTRAVL, you can have your phrases instantly translated and spoken aloud using a sophisticated combination of speech recognition modules, real human voice narration and speech synthesis. Helping you to enjoy sightseeing more, meet new friends and deal with emergencies, it is loaded with a full range of the most advanced language management tools ever combined and includes iHELP which lets you immediately access a list of emergency or most frequently used phrases instantly. Thanks to its remarkable Speech Recognition modules all you have to do is pronounce a voice tag and iTRAVL will speak the phrase immediately. A real life saver!
Don't let an emergency ruin your vacation!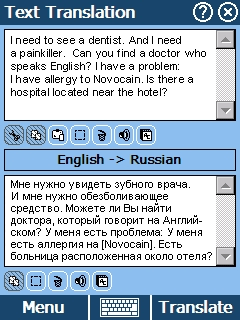 Lost? Never Again. Detailed maps with destination advice and addresses will help you find your way around in no time. Need a more hands on approach? Now asking for directions has never been easier. The combination of a fully translating Dictionary, PhraseBook and Travel Guide offers a compact and easy to use resource that fits in the palm of your hand. Equipped with the CIA World Factbook, detailed information on every nation in the world is now just a click away.
No more books or papers! Now you can leave it all at home, greatly reducing the time and energy necessary to access the information you depend on most while traveling. Before and after your trip you can also use the built-in speech enabled Language Teacher and language-learning games to improve your speech and accent. You can even use iTRAVL to communicate with your non-English speaking housekeeper or construction workers, to impress your visiting business partners with your knowledge of their language or to show your friends and family how much you know. Speaking another language has never been easier or more fun!
The Best of the Best! Easy to navigate and user-friendly iTRAVL offers a hi-resolution touch-screen interface that puts Windows CE powered convenience at your fingertips. A robust MP3 player lets you enjoy all your favorite media files and AudioBooks. Whether you're on the go, or ready to study, this global travel companion is always at your side. With the inclusion of a convenient metric converter and a talking calculator, you can now verify exchange rates and have them pronounced instantly. In addition, a world clock is now accessible so you can check the time in any time zone just by clicking the location on a virtual map. The newest and best there is to offer, ITRAVL is like no other communication device in the world.
Once you take a trip with iTRAVL, you?ll never leave home without it!

Specifications:
Extensive bilingual translating dictionary with voice synthesis
Audio Travel PhraseBook recognizes and speaks 14,000 travel-related phrases
iHELP pronounces Emergency or frequently used phrases instantly
CIA World Factbook for 180 countries around the world: Maps, Flags, Country Profiles, People, Geography, History, Economy, Essential Statistics, International Organizations and Groups and more
Consistent Full-text Machine Translation
70,000 WordNet English explanatory dictionary
Windows CE powered for advanced functionality and responsiveness
Hi-resolution touch-screen and hands-free speech navigation functionality
Mp3 player, games, calculator, metric converter, and word time clock utilities